Whether in winter or on cooler days, the sweater is an indispensable piece, because, in addition to heating up, it is classic and full of charm. There are several types of jackets that can be classified as a sweater, either varying in style or fabric. Knitted, crocheted or wool, they are long-sleeved and serve to protect you from the cold. Do you know the Holapick store? There you can find the best trends, and the site has a super promotion on sweaters.
The styles of womens fashion sweaters can vary from open with buttons, to closed and with different collars. The open sweater is ideal for not-so-cold days and can be worn with a skirt and dress. A great tip is to use a belt on top to help define the silhouette. The closed models may vary according to the type of collar. The V-neck is the most classic, but there are also sweaters with bald collar and high collar, in the shape of a jacket and the famous pullovers.
Because it has such a variety of models, the sweater combines with all styles and with any type of clothing. Tighter, V-neck versions look great with shirts. The broader and high-necked ones are elegant when worn alone and with pants more glued to the body.
The sweater is versatile and can be worn by any woman, regardless of body type. Women who have broad shoulders should prefer those with low necklines. Those with predominant hips can choose longer models that well disguise the region with volume.
For those who want to highlight the upper part of the body, a tip is to choose a sweater with a high collar and larger wefts. And women who want to disguise fat should run away from the most just. However, with so many types of sweater it is easy to combine and choose one that fits your body. As you can see, I separated some models of tops online, it is very worthwhile to browse the store.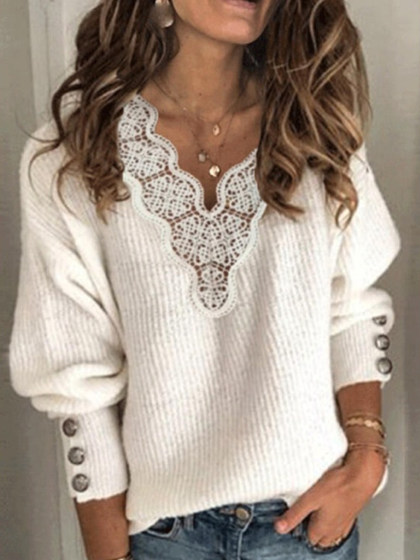 I hope you enjoyed the post. What's your favorite piece?